When it comes to the getting more streams on Spotify, it isn't as black and white as marketing your music more. Here is an inside guide on little steps to get more people listening to your music.
A guest post from DITTO MUSIC.
Generating streams on Spotify is about much more than just the numbers on your artist profile. More Spotify streams results in moreuseful data about your music & your audience, more regular, sustainable income in the form of streaming royalties, and more opportunities to engage with new listeners and grow an online fanbase.
That's why knowing all the strategies you can use for more streams - once your music is on Spotify - is crucial knowledge to all new artists who want to level the playing field with the millions of other artists using the platform. Because at the end of the day, if your head's not in the game, you're not in the game - and the music industry can be a tricky game to navigate if you don't know the moves.
Just don't do it, okay?
Buying streams (or followers for that matter), makes you susceptible to getting your music banned, lowering the industry's royalty rate (which means less moolah for your music) and having your Spotify account penalised or permanently disabled.
Zero chance of boosting those Spotify streams if you're banned from uploading music to the platform now is there?
And if you're actually serious about staying in music for the long-run (which I assume you are if you're reading this post), growing your brand progressively and organically is crucial to gaining real, honest success.
Plus, what a high knowing you've got a community of real-life, genuine fans who love and appreciate your music, versus an army of computerised bots?!
Before you do anything else, the first key step to boosting your overall no. of Spotify streams, is becoming a verified Spotify artist through Spotify's in-app artist service.
With a Spotify for Artists account you'll be able to:
- Customise your Spotify profile: change your profile image & add a bio to let fans know more about you, your brand, and any releases, shows or projects you want to promote
- Pitch your unreleased music to Spotify's editorial team of playlist curators
- See detailed analytics and streaming data about your listeners and how your music is performing
- Have a verified blue checkmark on your profile: let fans and Spotify curators know you're the real deal when they come across your profile.
- Get access to a host of promotional tools: including updates about new artist features and helpful resources for artists using the app.
All of these benefits are going to be big building blocks in helping you grow an audience, both on and off the platform, which will inevitably lead to more streams of your music.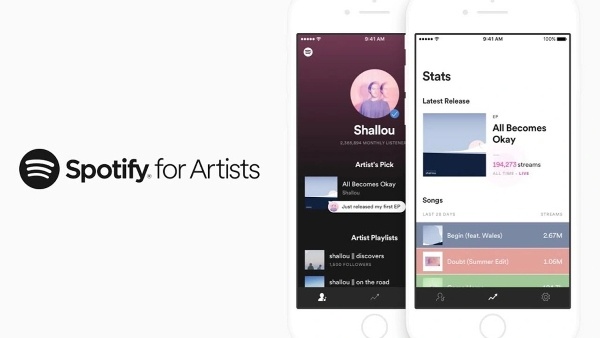 Find out how to claim your Spotify for Artists page & learn more about what Spotify for Artists can do for your music.
Once you claim your artist profile on Spotify, you'll want to make sure you're taking advantage of all the exclusive benefits to pimp your profile to the best of its ability.
A high quality artist profile on Spotify is more likely to attract the attention of listeners, leading to more streams and new fans in the process.
Make sure you've got:
- A high quality, correctly sized profile pic
- A gripping artist bio
- Links to your social media
- A pinned 'Artist's Pick'
- Your own track artwork
Treat Spotify like you would any other of your social media profiles. Make people want to sta on longer when they're visiting, rather than drop off early because you've got a pic of you holding a fish as your dp.
Listeners aside, if you want the platform to award you with playlist placements, 'fans also like' features & more, then play the algorithm game by regularly updating your account to show Spotify you're an active user and making the most of the virtual real estate that they're giving you to build your brand.
Your release strategy is just as important as the music you're putting out.
Read that again.
If you've got a banging track and a crap release strategy, you may as well not have bothered in the first place.
Harsh I know.
But the reality is, with the constant churning out of new music on the daily, there's a very slim chance your track will ever see the light of day (or ears of listeners) if you haven't properly planned, prepared and executed a well thought out release strategy ahead of drop-day.
That's why creating a Spotify pre-release campaign well in advance of your release day, is an invaluable opportunity to encourage fans and followers to save your release to their Spotify music library.https://www.youtube.com/embed/Uvail0ZHWuc
This makes sure your release ends up on all of your Spotify followers' 'Release Radar' playlists, which also boosts your chances of getting into other algorithmic or big editorial playlists, like 'New Music Friday' & 'Discover Weekly'.
Not only is this a great way to create buzz and anticipation in the lead up to release day, but it'll also really push the no. of streams your track sees early on, helping it get shared out and grow even bigger in the days that follow.
Find out how to create a Spotify pre-save campaign.
There's no doubt about it, pitching your music to Spotify's in-house creators for a chance to land on some of the most highly regarded playlists in the streaming world, is a clear-cut road to success for gaining more streams.
And with a Spotify for Artists account, you can submit your music for playlisting through a simple, online submission process via your profile.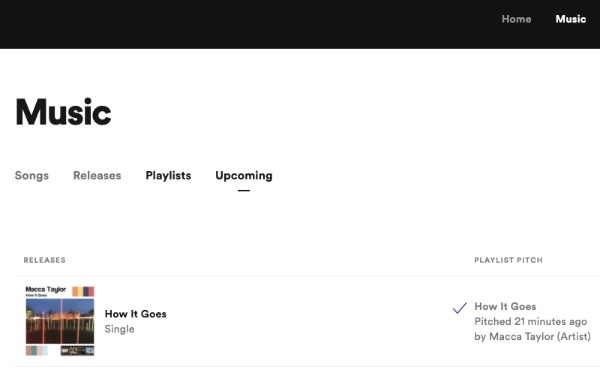 We've got an entire post on how to submit your music to Spotify playlists so make sure you check that out to learn how!
Before submitting your music, make sure you're aware of the rules around Spotify editorial playlist submission:
- You can only submit unreleased music
- You can only submit one track at a time
- You should submit at least 7 days before your release date
- You can only submit using a desktop computer
But the thing to remember with this one is it can often take a lot of time and pushbacks before you eventually get your music featured.
While it's definitely possible and something you should aim to do, make sure to keep your playlisting efforts continuous elsewhere as well - but more on that next.
Sure, landing on a big, really clouted Spotify playlist can do wonders for getting that stream count into the high digits. But unfortunately - it's really difficult to do.
But that doesn't mean you can't bypass the Spotify editorial barrier and not get your music playlisted at all.
Take the power into your own hands and curate some banging playlists of your own (that subtly features your music of course)!
There's a few ways you can approach creating your own playlists on Spotify:
1. Create a playlist of all your own music: create a sonic experience or repertoire of all your work/best tracks in one place, then pin it to the top of your Spotify homepage so listeners see it as soon as they land on your profile.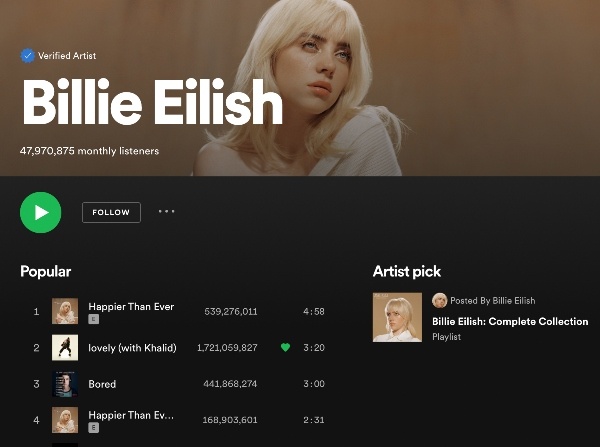 2. Create a playlist of your favourite tracks/artists, including some of your own: create a playlist of music with all your favourite songs and artists, subtly interspersed with some of your own tracks too.
TOP TIP: Things like moods & activities are good themes to base your own playlists around. It'll help prevent them becoming spammy and create a sense of authenticity that your listeners will love.
3. Create a collaborative playlist with another artist: recruit an artist who sees your vision to come together on a joint list, then blast it out to your fans and theirs (2 audiences = higher stream potential).
If you've got an entire playlist of music on your page, people are likely to stick around for longer. And If they listen to one song and like it, they're more likely to listen to a few, which helps by doubling or tripling your streams instantly from one person.
Plus, when it comes to the algorithm and how Spotify selects artists to feature on its own lists, any playlist placement counts, even ones off your own back.
Just make sure you update these playlists regularly by adding new tracks and removing old ones. It looks good to Spotify and it'll also notify listeners who are following the playlist that you've updated it. Which means more returning visitors to your profile and more chances of getting your music streamed.
Independent curators are your best friend on Spotify.
Truly.
And not to keep banging on about playlists, but some of Spotify's independent curators have playlists with thousands of followers. And they're much easier accessed than a Spotify editorial list.
You can use platforms like SubmitHub, Musosoup & Soundplate to start finding curators to submit your music to.
You can also pitch your music to music blogs, publicists, or find a music influencer to gain some playlist traction from some of the most trusted people by music listeners in the business.
Or take a more traditional route. Start scouring out some independent curator lists that you think your music would sound great on and start reaching out.
Not only will you boost your streams, but you could also make new, valuable industry connections in the process.
If you've really thought about your music release strategy, you'll have left no stone unturned in your music marketing approach - email, social media, music video, artist website, EPK, press release etc, etc.
And while that's all great, if you want to generate more Spotify streams exclusively, you need to make sure all your marketing efforts are directly linking back to your Spotify profile.
How do you do that?
Well, with a direct link of course.
This means including a link to your Spotify in things like:
- Your Instagram/Twitter bio
- Your email signature
- Your music bio, EPK or press release
- A Spotify pre-save link on your website
- Pinned as a comment on your YouTube vid
Marketing your music release with a multi-channel strategy is great! But in order to actually transform this promotion into Spotify streams, you'll also need to be pointing your listeners in exactly the right direction.
Spotify Ad Studio is an advertising platform that artists (with a decent budget) can use to create Spotify ads and manage Spotify video or audio campaigns.
It allows you to promote an upcoming release with individually and personally designed Spotify ads that Spotify users will hear during breaks between songs on desktop and mobile devices.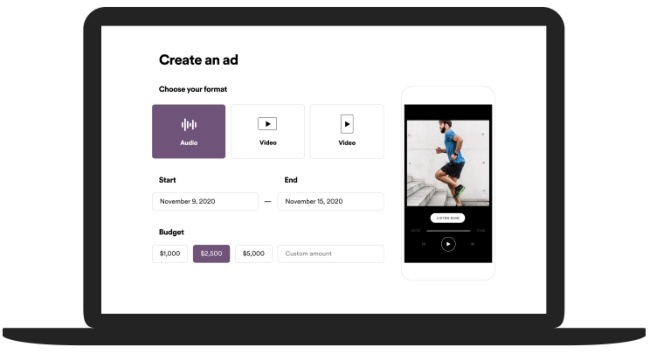 Getting started is easy. Simply submit a script, pick a background song and upload your cover art. This will prompt Spotify to produce the ad, complete with a recorded voiceover.
The platform also lets you customise things like your target audience, budget, make edits and view ad reports.
Each audio ad is 30 seconds long (or less), and features a clickable image that will be shown for the ad's duration.
Spotify codes are another really useful tool to be aware of.
These are basically QR codes that Spotify users can 'scan' to share or discover content on Spotify. Codes can be created for a whole bunch of things beyond songs - including albums, playlists and even artist or band profiles.
The best part about Spotify codes is that they're shareable almost anywhere. You could dish them out across your socials, website and anywhere else that supports a Spotify URL embed.
If a fan wants to check out your latest release, all they need to do is scan the code using the built-in scanner on the Spotify app and they'll be directly re-routed to your release. Handy, right?
Remember - the key to getting more streams is getting your content out in front of listeners & then making it easy for them to go and listen to.
While the app has some amazing features for artists marketing their music from within, don't forget to keep up your promo efforts outside the music platform - specifically on social media.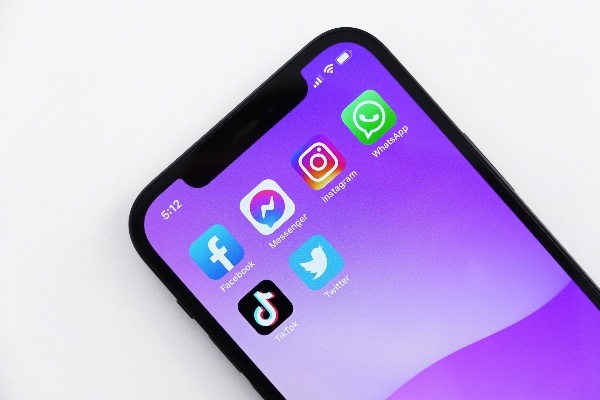 Social media platforms like Instagram, TikTok & Twitter all have a wealth of features to help you create engaging, highly entertaining content that'll make listeners want to go and check out your music on Spotify.
We've got a whole list of social media music marketing strategies that you can check out to get inspired, as well as some TikTok quickfire music content ideas to up your viral vid game.
Once you have eyes on your content, directing those eyes (and ears) in the right place will be much more easily convinced - and inadvertently boost your stream count.
TOP TIP: Make sure to include a direct link to your Spotify in your socials bio. No qualms. No re-routes. A simple, streamlined process that doesn't require them having to click off Instagram, load up Spotify and scroll through 10 Spotify handles to give your 2 minute single a listen.
Last but certainly not least - if you want to generate more streams on Spotify, you'll need to make sure you're releasing more music on the reg.
Giving your listeners a reason to come back time and time again is going to result in more streams and discovery of your music.
And Spotify was built with this intention in mind. Spotify's algorithmic playlists & rewards schemes are all based around activity with your profile. So the more people who return and interact with you on the platform, the higher you'll be in Spotify's good books.
Now we know that making good quality music takes time - and quality is never something you should sacrifice for streams.
But there are definite ways you can scale up your production by simply releasing multiple versions of the same track.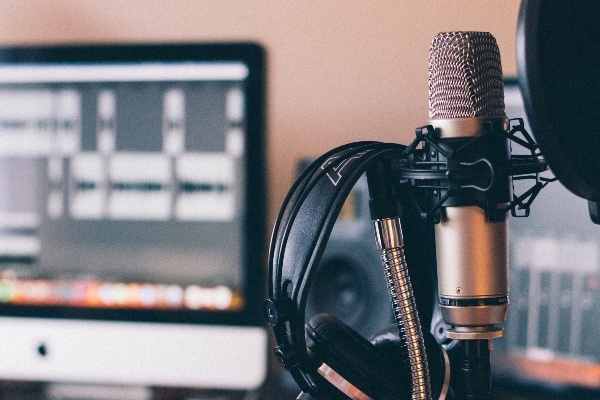 I'm thinking remixes, covers, acoustic versions - these are all great ways to release new music more regularly and increase your upload consistency without compromising your quality.
Getting your music streamed by loads of listeners is definitely something well worth striving for!
But remember, streams don't necessarily translate to 'success'.
Never ever lose sight of what's really important in the pursuit to maximise your stream count - that is, creating high quality music that speaks to listeners, establishing genuine connections with your fans, and most importantly - being true to yourself and your art.
How to learn western vocals from basic?
How to find trainers for it?
What pointers do one need to take care of?
https://innwiser.com/how-to-learn-western-vocals-from-basic/
InnWiser #innwiser #educators #teachers #music #vocals
Email address is not displayed with comments


Note: Use HTML tags like <b> <i> and <ul> to style your text. URLs automatically linked.
With the internet and digital technologies driving rapid change within the music industry, articles about new releases and who has been hired and fired are no longer enough. Our up to the minute industry news alongside insightful commentary helps our readers sift through the rumors and developments to find the information they need to keep their businesses moving forward.
Hypebot is read daily by more than 30,000 music industry professionals including executives and senior staff of music related tech firms, internet based music sites, every major label group and most indies as well as many managers, artists and members of the live music community:
Contact us for the latesst stats, ad rates and sponosorship opportunites. We also offer combined rates with MusicThinkTank.
"I swear by Hypebot every morning over breakfast."
Derek Sivers
Founder, CD Baby
"Hypebot is the most focused music business centric resource we have."
Celia Hirschman
One Little Indian, Downtown Marketing & KCRW-FM
"Well done."
Seth Godin
Marketing guru
var F14249_sb_requiredFields=new Array();var F14249_sb_validateFields=new Array();F14249_sb_requiredFields.push('F14249_sb_Category');F14249_sb_requiredFields.push('F14249_sb_email');F14249_sb_requiredFields.push('F14249_sb_feedid');F14249_sb_requiredFields.push('F14249_sb_publisherid');F14249_sb_requiredFields.push('F14249_sb_cids');var F14249_sb_fieldcol='#000000′;var fbz_F14249_sb_logged=false;function F14249_sb_wait_fn(){try{if(!fbz_F14249_sb_logged){fbz_SmartForm('F14249_sb',feedblitz_full_form);try{s('F14249_sb');}catch(e){};fbz_FitForm('F14249_sb');var F14249_sb_wait_img=fbz_formMetrics(14249,1);fbz$('F14249_sb_wait_img').innerHTML=F14249_sb_wait_img;clearInterval(F14249_sb_wait);fbz_F14249_sb_logged=true;}}catch(e){}}
var F14249_sb_wait=setInterval(F14249_sb_wait_fn,100);