Wednesday, November 9th, 2022 7:55am
The Tameside Radio presenter explores how streaming has changed how we enjoy our music and the surprising most-streamed songs in the Official Charts over the last 70 years.
How many CDs do you have in your house? As someone who used to rush down to Woolworths every Monday to buy the latest CD singles (at £3.99 a song!), I've frittered away a lot of my pocket money on physical formats over the years. Before compact discs, it was cassettes played on my yellow Sports Walkman, which I remember once spending a fortune repairing after the volume button broke off on the beach. There was also the trauma of a tangle, which was luckily sorted out relatively easily with the aid of a pencil. Kids, ask your parents about this bit.
Vinyl has made a resurgence in recent times, and the price is certainly a lot higher than it was in the days when I was a member of the Shakin' Stevens fan club! Albums are released on coloured vinyl, and with all kinds of intricate gatefold sleeve artwork, but sales are nowhere near the level they used to be.
It's a fact that the vast majority of our music consumption in 2022 comes from streaming. We are effectively 'renting' the songs, as downloads are also fairly marginal. Ownership is no longer seen as important, I guess. It does mean that, much like Netflix, some artists can disappear due to record label rights issues, or if they just decide they don't want their music to be available to stream any more.
The share of the pie for artists is constantly under the spotlight, with Mackenzie Miller, a young 20s singer from Seattle, receiving nearly 14,000 plays of her single Peach Lemonade in the first few weeks of its release. This amounted to barely five dollars in earnings. Cars singer Gary Numan reportedly got the princely sum of £37 from a million streams. Just about enough for three decent bottles of red wine!
Aside from worries over the slice of the cake for artists, it was interesting to see which songs are the most streamed in the time period from 1952 to 2022, as the Official Chart celebrates its 70th birthday. Before you say it, I know streaming wasn't big back in 1952. It's been compiled from the year in which songs were released, and the chart certainly contains some surprises.
Back in 1991, Bryan Adams Everything I Do (I Do It For You) stayed in pole position for a record 16 weeks, a record that has still not been beaten. The Canadian also did us a big favour by stopping Right Said Fred's I'm Too Sexy from going to the top. Despite four months at number one, the biggest song on Spotify released in 1991 is Nirvana's Smells Like Teen Spirit. My brother Nik will approve. He's always had far cooler music taste than me. I was more into Dannii Minogue and Betty Boo at the time. Bryan Adams does make an appearance, incidentally, with 1985's Summer Of '69…which didn't make the Top 40 at the time. It remains an enduring wedding disco staple.
Some other eyebrow raising 'flops' include Beatles Here Comes The Sun from 1969, which was never released as a single in the UK, and Killers' Mr Brightside from 2003, which barely scraped into the top ten initially, but is now the song that won't go away! Almost two decades on from its release, it is sitting at number 82 on the chart this week, its 339th week in the Top 100. Extraordinary stuff.
If you're wondering what this year's biggest sound is, that title belongs on Spotify to Harry Styles' ubiquitous A-ha soundalike As It Was, which has seriously cool 80s vibes going on. Other artists from the last decade or so include Adele, Ed Sheeran and Sia.
Streaming can make a relatively minor chart hit into a perennial classic, sometimes helped by shows like X Factor (Journey's Don't Stop Believin' is 1981's biggest streamed song, in spite of a disappointing chart position back in the day). The year of Four Weddings And A Funeral, 1994, saw Wet Wet Wet claim 15 weeks at the top, but apparently streamers favour The Notorious B.I.G. Other favourites are perhaps less surprising, with the enduring popularity of Singin' In The Rain and That's Amore explaining the biggest streamed songs from 1952 and 1953 respectively.
It would certainly make an interesting and varied Spotify playlist! It's still a little astounding that we can get pretty much all of the music in the world for a tenner a month, given I paid £3.99 for an All Saints CD single in the year 2000, but as long as artists can be fairly rewarded, it's musical democracy in action!
You can listen to Alex every weekday from 7am to 11am and on the 'Super Scoreboard' show on Saturdays from 3pm to 7pm, on Tameside Radio 103.6FM.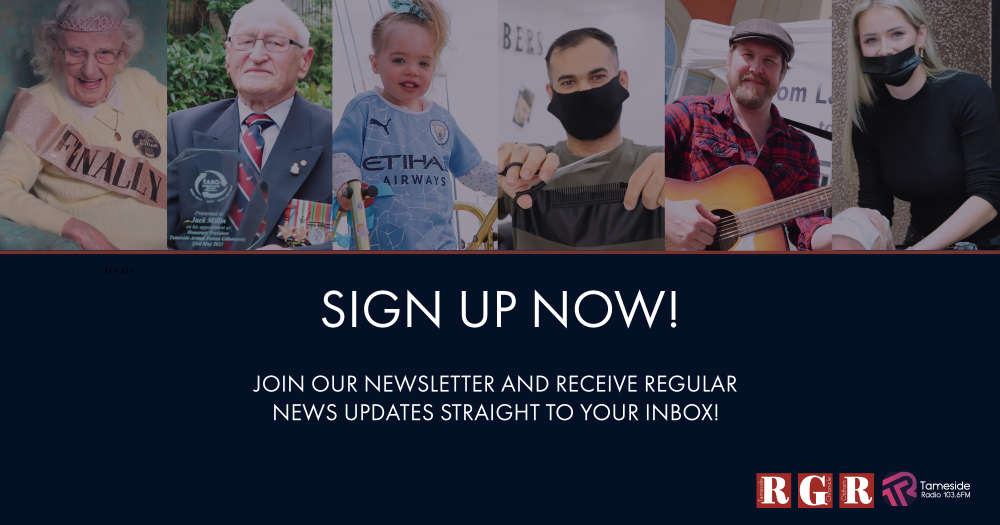 Enter your email address and tick the box below for regular round-ups of the most important stories in YOUR local area…
Click here for more of the latest news
Click here to read the latest edition of the paper online
Click here to find out where you can pick up a copy of the paper
15°C
16°C
15°C
17°C