Hi, what are you looking for?
MQair is MQA's new scalable real-time audio transmission protocol which aims to improve sound quality through wireless headphones or speakers.
By
Published
Flipboard
Reddit
Pinterest
Whatsapp
Whatsapp
Email
Nearly 8 years after the introduction of MQA, Bob Stuart is embarking on a new mission to solve the problem of wireless hi-res audio transmission.
Although Bluetooth has become the standard for wireless headphones, most people aren't aware the Bluetooth Audio protocol cannot currently support the full resolution wireless transfer of lossless or hi-res music. Essentially the Bluetooth pipe is too skinny to fit all the data through. Just enough data does get through to be able to hear the music thanks to a fancy algorithm that uses psychoacoustics to discard data unlikely to be noticed.
With MQA's latest initiative called MQair, it seems the company has figured out a way to dynamically transfer MQA or PCM audio wirelessly all the way up to 384kHz/24-bit. Very little music exists at such a high sampling rate, but in theory things seem very promising.
There are no MQair compatible wireless headphones (or speakers) on the market so it may be a while before MQair enabled products ship. We were told MQair can be implemented in software on a wide range of chips. That sounds like it could mean firmware updates on existing products could bring MQair to market faster. However, information is very limited at this time.
Details from MQA's press release are stated below, along with 10 Questions About MQair.
Today it was announced that Japan Audio Society (JAS), the internationally respected audio research organisation, has certified MQA Ltd's new scalable codec, for use with its Hi-Res AUDIO WIRELESS logo. This new codec carries the technical name of SCL6 and is coming to market as MQair.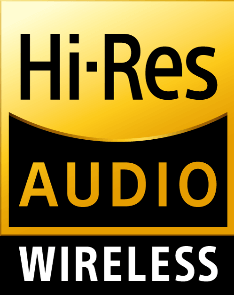 MQair delivers detail and clarity by focussing on the time domain – a critical factor in the human perception of high-resolution sound. This fresh perspective enables an exceptional audio experience and responds to rising consumer demand for better wireless sound.
The technology supports both MQA and PCM audio up to 384kHz, and the encoded data rate can be scaled seamlessly from below 200kbps to 20Mbps, covering Bluetooth, Ultra-Wideband (UWB) and WiFi links. It offers low latency and high efficiency for extended battery life.

MQair, powered by SCL6, means the listener need not sacrifice quality for convenience.
Bob Stuart, MQA Founder & CTO commented, "We are very honoured that JAS has certified SCL6 for use with its Hi-Res AUDIO WIRELESS logo. This latest technology is born of our passion for the highest sound quality and an understanding that such quality brings us closer to the music. With MQair we can improve the listening experience for many listeners and extend the MQA ecosystem to wireless devices. High resolution isn't necessarily defined by the big things – it is shaped by small elements in the sound that convey details, separation, colour and space. Our reference for transparency is air itself. We are excited to use these insights in the design of MQair to bring a more enjoyable experience to audio fans and music lovers everywhere."
---
10 Questions for Bob Stuart, MQA
1. Could a firmware update enable MQair on existing headphones, or are new chips required?
Technically it's possible, but it would be a decision for the manufacturer.
2. Is MQair analogous to aptX Adaptive or aptX Lossless? If so, aren't new chips required for sending/receiving?
SCL6 (the codec branded as MQair) covers an area where today we see codecs such as AAC, aptx, LDAC, LHDC and LC3+. Since it can be implemented in software, new chips are not necessary for the codec. However this is an area of rapid development and where new chips will come into play is the ability to handle the higher-rate audio at both ends.
3. Is MQair dependent on a particular music streaming service?
No. MQair handles any audio that can be in the phone - whether from Tidal or a PCM streaming service, YouTube, gaming, video or internet radio.
4. What is the requirement to make a headphone or speaker MQair enabled?
MQA has a licensing program for the use of the codec including to ensure compatibility and quality standards. MQair can be implemented in software on a wide range of chips.
5. Is spatial audio (Dolby Atmos or Sony 360) supported over MQair?
Not natively, however MQair can support multichannel audio.
6. Is MQair using any technology from MQA (e.g. folding/rendering), or is it completely new?
MQair uses foundational insights into the human perception of 'resolution', combined with data from encoding many millions of songs in the world's music catalogue. It incorporates several new and also existing MQA technologies, including, where possible, rendering. MQair shares the DNA of MQA – with its focus on the time domain. Although it is a completely new codec, SCL6 is the perfect companion to extend MQA listening over wireless links.
7. How is MQair different than AirPlay 2?
Airplay 2 is limited to audio sampled at 44.1 or 48kHz and generally 16-bit. Depending on the sending and receiving device it may involve sample-rate conversion between these rates, while higher-rate signals will be downsampled. MQair conveys 24b audio sampled between 44.1 and 384kHz, so it deals with 'high-resolution' sources natively.
8. Does MQair require a minimum Bluetooth specification?
Not as such, but we expect that later specifications will be used in upcoming products.
9. What is the maximum distance to achieve 384kHz wireless transmission?
This is really a question about the design of the radio system. Using UWB for headphones, MQair can deliver it with exceptional quality over 10 meters.
10. Can MQair dynamically detect wireless connections to scale performance up or down?
The SCL6 encoder can scale data rate seamlessly, in real time, in response to information from the radio system about what is available.
---
About MQA Ltd
MQA Ltd is a research, development and licensing company, whose mission is to achieve excellence in all aspects of audio entertainment: from sound recordings, to content streaming and broadcasting, through to consumer playback devices. The first product to market – Master Quality Authenticated (MQA) – is a breakthrough suite of technologies that delivers the original sound of the recording studio in a format that is small enough to stream. This award-winning technology is licensed by leading record labels, music services, broadcasters and hardware manufacturers worldwide. MQA Ltd is a UK-based private company.
For more information visit
mqa.co.uk
TIDAL Launches HiFi Plus: Better for Artists & Listeners
Earth Day Podcast: Sustainability in Audio with NAD & MQA
Home > Latest > News > Headphones > Wireless Headphones > MQA Introduces MQair for Wireless Hi-Res Audio Music Streaming
ORT
November 9, 2022 at 5:45 pm
"I felt a great disturbance in the FARCE. As if millions of dollars cried out in terror and were suddenly transferred. I feel something phony has happened."
"The FARCE is strong in this one. He's more maroon now than man. Twisted and evile."
MQA is the audio version of the Emperor's New Clothes. It and is cretinous creator, Blob Stewfart (aka Darth Vapor) can take an airborne intercourse. Remember even if you never use his crap but paid for something with that logo on it? You gave money to Darth Vapor. FTN.
Why do companies allow this lying dipstick to foist his crap on them and then on their customers? FTN.
ORT
Ian White
November 9, 2022 at 6:45 pm
ORT,
I'm going to mark you as a solid "maybe for this one.
Grand Moff White
ORT
November 9, 2022 at 7:57 pm
Long live the Empire. 😉
May the Schwartz be with you, my brother.
ORT
Mesonto
November 11, 2022 at 12:51 pm
Great, now we can take the BS that is MQA to the AIR.
Ian White
November 11, 2022 at 3:30 pm
Mesonto,
I have been waiting for aptX Lossless products for 6 months. When that happens, I think MQair is DOA.
Ian White
Your email address will not be published. Required fields are marked *





At just $199 each, the RSL W25E are making it super affordable to get an in-wall/ceiling Dolby Atmos home theater speaker system. Angled drivers…
The new MoFi SourcePoint 10 stand-mount loudspeakers features a 10-inch paper cone driver with 1.25-inch soft dome tweeter in a concentric configuration for $3,699/pair.
Audio-Technica's new ATH-TWX9 True Wireless Earphones feature 5.8mm drivers, 6 hours of battery life, deep-UV sterilization and personalized hybrid noise cancelling for $299.
Good loudspeakers don't have to be unaffordable. The Monoprice Monolith Audition Series Loudspeakers will not break the bank.
$790 for a portable wireless speaker? The Devialet Mania aims to turn the category on its head with some innovative new features.
Would you spend $1,000 on a pair of high-end wireless loudspeakers? The TRIANGLE BOREA BR03 BT might be a fantastic option.
Flipboard
Reddit
Pinterest
Whatsapp
Whatsapp
Email
We finally managed to get the Bowers & Wilkins Px8 and Focal Bathys in the same room for listening comparisons. We break it all…
At just $199 each, the RSL W25E are making it super affordable to get an in-wall/ceiling Dolby Atmos home theater speaker system. Angled drivers…
The best soundbars are now competitive with component based surround systems. Here are our current favorites.
The new MoFi SourcePoint 10 stand-mount loudspeakers features a 10-inch paper cone driver with 1.25-inch soft dome tweeter in a concentric configuration for $3,699/pair.
Big screens without huge prices, UST 4K projectors are finding their niche. Here are a few of the best available in 2022.
The backbone of a home theater or surround sound system, today's best AVRs are packed with features and performance.
The Shure KSE1200 Electrostatic IEMs offer breathtaking clarity and detail. Are they really worth $2,000?
Our comprehensive list of the best true wireless earbuds and earphones of 2022 features some surprises.
ecoustics is a hi-fi and music magazine offering product reviews, podcasts, news and advice for aspiring audiophiles, home theater enthusiasts and headphone hipsters. Read more →
Copyright © 1999-2022 ecoustics | Disclaimer: We may earn a commission when you buy through links on our site.