BREAKING: Futures Tilts Lower After S&P 500 Holds Key Level
TikTok, the unit of Chinese tech company ByteDance with roots in short viral videos, is finding that its brand of social media can open prospects in music streaming, e-commerce, news content, games and more. (© Chris Gash)
There's no time like the present for TikTok. Despite U.S. lawmakers' threats to ban the Chinese-owned social media app, TikTok is brushing regulatory concerns aside and morphing into a global giant, taking on the likes of FANG stocks Alphabet's (GOOGL) Google, Facebook-parent Meta Platforms (META) and Amazon.com (AMZN), as well as Apple (AAPL).
TikTok, the unit of Chinese tech company ByteDance with roots in short viral videos, is finding that its brand of social media can open prospects in music streaming, e-commerce, news content, games and more. Meanwhile, its advertising revenue is booming, threatening  much bigger rivals in Alphabet, Meta and Snap (SNAP).
And these FANG stocks are feeling the heat. Google aims to derail TikTok with YouTube Shorts, yet turning a profit with its own short video platform could prove challenging. Meta's Facebook and Instagram are trying to transition to a short video platform known as Reels, but it has struggled to gain traction.
Many investors who own FANG stocks such as GOOGL stock or META stock , along with SNAP stock, hope lawmakers swing a sledgehammer at the not-yet-public TikTok. FBI Director Chris Wray in November raised national security concerns over access to U.S. user data by parent ByteDance and the Chinese government.
But an outright ban on app downloads is unlikely, says James Lewis, who leads the strategic technologies program at the Washington, D.C.-based Center for Strategic and International Studies. For one, millions of young TikTok users could punish lawmakers in the 2024 elections.
"The stalling point here is that TikTok is so popular that lawmakers don't want to alienate voters," Lewis told Investor's Business Daily. "TikTok's best shield is its popularity. There would be instant pushback on any ban."
In fact, the Biden administration aims to forge a deal with TikTok and ByteDance to address national security concerns. One hurdle to a deal could be TikTok's ownership structure with ByteDance.
With a divided Congress, don't count on a bipartisan deal to ban TikTok outright.
"Republicans don't like TikTok. They see it as a useful thing to beat up the Biden administration on," Lewis said. "But at the end of the day they're just likely to make noise."
Data privacy is just one concern. The Committee on Foreign Investment in the United States is also reviewing whether China is using TikTok's algorithms to influence or shape public opinion.
TikTok software algorithms that recommend short videos to app users based on their behavior and preferences have been key to its success. The algorithms use artificial intelligence tools.
The Trump administration in 2020 issued an executive order to ban TikTok or force ByteDance to divest it to a U.S. company. But federal courts struck down the order.
TikTok in June said 100% of U.S. user traffic is stored on Oracle (ORCL) servers in America. Still, questions linger over Chinese access to the data. Oracle has been growing its cloud computing business.
The Biden administration has reportedly given the company until early 2023 to propose a solution to data security concerns.
Still, Mizuho Securities analyst James Lee doubts an outright ban on TikTok app downloads is coming.
"We believe the Biden administration is looking for a stable relationship with China and cooperation in areas of mutual geopolitical interest, including Russia/Ukraine, North Korea and climate," Lee said in a recent note to clients. "With that in mind, we believe President Biden is not incentivized to pursue TikTok's ban. Rather, (he) could seek a middle ground, setting up guardrails to make TikTok's life more difficult without a complete ban."
And Lee doesn't expect tougher regulation to provide relief for its internet rivals.
"We do not expect the outcome of TikTok's regulatory review to be a near-term catalyst for U.S. online advertising names such as Meta, Alphabet, Snap and Pinterest," he added.
The possibility of a U.S. regulatory crackdown has not deterred TikTok's growing ambitions.
Widely used as an app for making and sharing short videos, the company is morphing into an octopus-like social media platform, with tentacles in music streaming, e-commerce and gaming. It's taking on new competitors like Apple, Amazon, one of the other FANG stocks, and Spotify (SPOT).
For years, the company has described itself as an entertainment platform, not just a social media network. The strategy makes sense, analysts say, especially as regulatory scrutiny grows.
Parent ByteDance bought the U.S.-based lip-syncing video platform Musical.ly in 2017. When the coronavirus pandemic broke out, "TikTok songs" became a phenomenon as teenagers made viral videos.
Now ByteDance is reportedly negotiating with major music labels for streaming rights.
"TikTok is a good fit for music streaming given how the platform evolved," Insider Intelligence analyst Jasmine Enberg told IBD. "Younger users recognize songs from TikTok. That's where they know them from, versus from the radio."
The company also aims to expand its livestreaming products into more markets with more features.
In October, TikTok raised the age requirement for sharing live video to 18 and introduced adult-only streaming.
E-commerce is another TikTok ambition. In parts of Asia, the TikTok Shop feature has allowed users to buy products through links on the screen of the app during live broadcasts.
TikTok tested live shopping in the U.K., but early results disappointed, according to reports. Still, the company is in the early stages of bringing TikTok Shop to the U.S., working with partners.
"TikTok does have this great advantage — its very large, loyal and engaged user base," EvercoreISI analyst Mark Mahaney told IBD. "It's natural to try and extend that 1 billion user base into new areas. But how successful they'll be, I don't know."
He added, "The thing about the music industry is that the (content) supply base is highly concentrated and it's a low-gross-margin business. With e-commerce, TikTok could be swimming out of its lane. It's very different than its core competency."
Meanwhile, TikTok's advertising revenue  is booming. Global ad revenue will jump to $23.58 billion in 2024, more than six times the $3.88 billion it recorded in 2021, forecasts Insider Intelligence.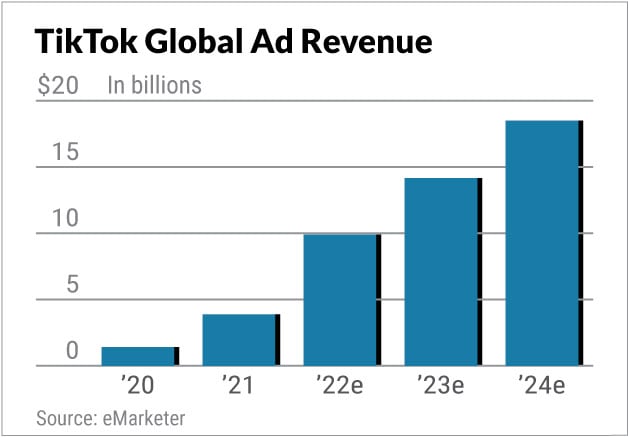 Its updated forecast includes TikTok's own estimates. Amid a global slowdown in digital advertising, it recently lowered its own ad forecast for 2022 to $10 billion from at least $12 billion.
TikTok has picked up big brand advertisers such as Chipotle, McDonald's, Starbucks and Wendy's.
The digital advertising growth of TikTok, along with Amazon, is a double-whammy for Google and other FANG stocks. Amazon's ad growth comes from e-commerce.
According to a Cowen consumer survey released in October, TikTok has gained traction in online shopping.
"Instagram remained the platform with the highest incidence of purchasing from a newly discovered brand at 44%, up from 38% in 2020, and followed closely by TikTok," said the Cowen report. "Both platforms did particularly well among users in the ages 18 to 24 and 25 to 34 cohorts."
Globally, over 980 million people downloaded the TikTok app in 2020, up 36% from a year earlier, says research firm Sensor Towers. Then the law of big numbers hit. In 2021, downloads fell 25% to 740 million.
"We view the dip in 2021 as more of a normalization," said Sensor Tower analyst Stephanie Chan in an email. "Although TikTok's adoption was down 25% year over year in 2021, this was in comparison to its surge of installs in 2020. Its 2021 installs were up 3% compared to 2019."
TikTok users on average spend about 96 minutes a day watching short videos, according to Sensor Tower.
The company has been a growing nemesis for U.S. social media firms since the Covid pandemic started. TikTok has grabbed Facebook's young users.
Facebook's Instagram launched short-form video Reels in September 2021. Meta's near-term problem is that time spent on Reels will cannibalize ad revenue from other Facebook properties, analysts say. META stock has declined 67% in 2022 and the company has announced large worker layoffs.
Snap stock plunged on its third-quarter earnings miss.
TikTok's growth is taking a toll on Google as well. YouTube's September-quarter advertising revenue fell 2% year over year to $7.1 billion.
Google aims to slow down TikTok with YouTube Shorts, its own short video platform. According to Google, YouTube Shorts videos are watched by more than 1.5 billion signed-in users every month, with more than 30 billion daily views. Google continues to experiment with ways to make money from YouTube Shorts.
YouTube has introduced a new ad revenue-sharing model for creators of short-form videos. Creators could get as much as 45% of ad revenue. To qualify, creators must reach 10 million Shorts views over 90 days.
Also, YouTube is testing shopping features on the short video platform. At Insider Intelligence, Enberg says YouTube Shorts could be a viable competitor to TikTok.
She says YouTube is the only platform where video creators can monetize content across short, long and live formats.
"YouTube has put Shorts and creators at the center of its growth plan," she said. "It has the potential to be a strong competitor to TikTok, with ad revenue-sharing. What makes Shorts unique is that it's tied to YouTube, a long-form platform. And creators have tools to convert long-form content into short videos."
The battle between TikTok and YouTube Shorts isn't just over young creators and "influencers." More small businesses are using TikTok. Real estate agents, for example, use short videos to show properties up for sale.
Big companies are stepping up marketing, too. Warner Bros. Discovery (WBD) has added more than 1.6 million followers for its Looney Tunes account on TikTok.
Even if ByteDance and TikTok resolve U.S. security concerns posed by the Chinese-owned video app, it's not clear whether an initial public offering is in the cards. For one thing, 2022 has been a dismal year for tech IPOs globally.
Despite fast-growing revenue, TikTok remains unprofitable amid huge investments. The company's operating losses in 2021 totaled $7.15 billion, up from $2.14 billion in 2020.
"Reaching an agreement with the Biden Administration would clear a major roadblock to listing. However, there are other major hurdles, including regulatory pressure in Beijing as well as generally poor market conditions," said Matt Kennedy, senior strategist at Renaissance Capital, which tracks IPOs.
Under President Xi Jinping, China's government has been cracking down on technology companies.
He added: "There is also the question of where and what they would list. At different points there's been talk of listing ByteDance in Hong Kong, only listing the company's Chinese assets in China or possibly listing just TikTok in the U.S."
Follow Reinhardt Krause on Twitter @reinhardtk_tech for updates on 5G wireless, artificial intelligence, cybersecurity and cloud computing.
YOU MIGHT ALSO LIKE:
IBD Digital: Unlock IBD's Premium Stock Lists, Tools And Analysis Today
Learn How To Time The Market With IBD's ETF Market Strategy
How To Use The 10-Week Moving Average For Buying And Selling
Get Free IBD Newsletters: Market Prep | Tech Report | How To Invest
12/02/2022 Track the latest artificial intelligence trends and the AI leaders driving them.
12/02/2022 Track the latest artificial intelligence trends and the AI leaders…
TikTok, the unit of Chinese tech company ByteDance with roots in short viral videos, is finding that its brand of social media can open prospects in music streaming, e-commerce, news content, games and more. (© Chris Gash)
Get instant access to exclusive stock lists, expert market analysis and powerful tools with 2 months of IBD Digital for only $20!
Get market updates, educational videos, webinars, and stock analysis.
Learn how you can make more money with IBD's investing tools, top-performing stock lists, and educational content.
Notice: Information contained herein is not and should not be construed as an offer, solicitation, or recommendation to buy or sell securities. The information has been obtained from sources we believe to be reliable; however no guarantee is made or implied with respect to its accuracy, timeliness, or completeness. Authors may own the stocks they discuss. The information and content are subject to change without notice.
*Real-time prices by Nasdaq Last Sale. Realtime quote and/or trade prices are not sourced from all markets.
Ownership data provided by Refinitiv and Estimates data provided by FactSet.
© 2000-2022 Investor's Business Daily, LLC. All rights reserved