Join the game director and composer for an insightful behind-the-scenes look into the creation of the score.
After four years in the making, we are finally celebrating the release of God of War Ragnarök!
With the success of God of War (2018) came tremendous pressure to give fans a sequel worthy of its predecessor. That meant new characters and enemies, new realms and creatures, and most excitingly for the PlayStation Studios Music team, an epic new score.
If you have found yourself humming the incredible God of War Ragnarök theme non-stop since the game released last week, then we've got a very special announcement for you!
Earlier this year, while production on God of War Ragnarök was in full swing, the PlayStation Studios Music team and game director Eric Williams put together an internal soundtrack listening party as a fun and unique way to share the game score with the Santa Monica Studio development team.
We selected some of our favorite tracks and brought together a few Music Production team members to give a behind-the-scenes look at how the music is recorded and transformed into interactive moments that become emotional memories for the players.
The Santa Monica Studio team went wild hearing Bear McCreary's beautifully composed score for the first time. Just as the music elevates the gameplay, these iconic themes provided a boost of kinetic energy that helped carry the team the rest of the way through the production.
Based on the team's enthusiastic reaction, we knew that we could not keep this experience within the confines of the studio walls.
This is something that we want to share with you – the fans!
We've teamed up with our soundtrack release partner, Sony Masterworks, and are thrilled to announce the God of War Ragnarök soundtrack listening party!
You can join our 90-minute livestream on the PlayStation Twitch and YouTube channels on Thursday, November 17 at 4:00 PM PST / 12:00 AM GMT, with a pre-show beginning at 3:30 PM PST / 11:30 PM GMT.
Our show will have three amazing speakers, each with their own expertise and insight to offer into the tracks that we'll play.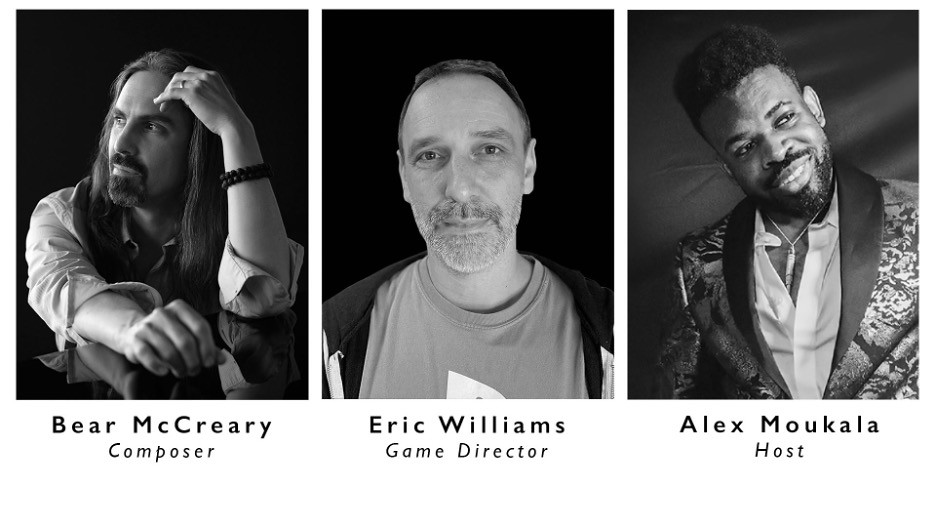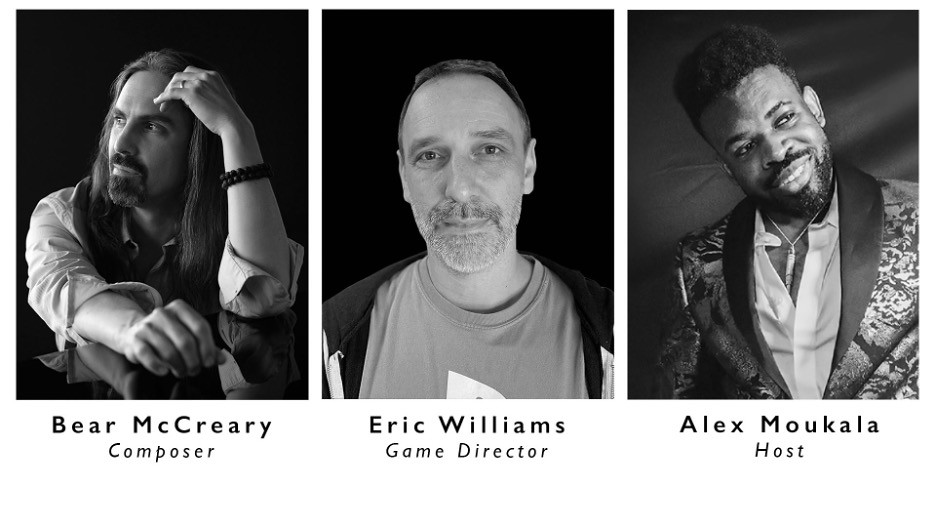 Bear McCreary is a prolific composer with notable credits spanning across movies, television, and video games. He first joined the Norse saga in God of War (2018) and makes an epic return to the series in God of War Ragnarök. A masterful storyteller with music, Bear has a keen ability to weave a rich authenticity into his interactive score that transports and immerses players into the Nine Realms. Each thoughtful note is constructed to make hearts pound with intensity and swell with emotion throughout the odyssey of God of War Ragnarök.
Eric Williams has been an integral part of Santa Monica Studio since 2005. His expertise and passion have made him a pillar of the God of War franchise since its inception. Eric has taken the helm in God of War Ragnarök, guiding the SMS team towards the final installment of the Norse saga. Eric collaborated closely with Bear and the team to ensure each musical moment within the game hits the right emotional chord with players.
Alex Moukala is a music producer who is well-known for his enthusiastic involvement in the gaming community. As a content creator with a natural talent for engaging with his audience, Alex brings his perspective as a fan and a music professional to steer the conversation.
Together, all three of our guests will take us on a journey through the musical landscapes of the realms and examine how we use music to bring the story of God of War Ragnarök to life.
Make sure you join us on November 17, starting at 3:30 PM PT / 11:30 PM GMT! Our host will be taking questions from viewers throughout the show.
Did you like this?
Share this story
Join the Conversation
But don't be a jerk!
Please be kind, considerate, and constructive. Report inappropriate comments to [email protected]
4 Comments
You must be logged in to post a comment.
Adam Michel Director, Content Acquisition & Operations, SIE
Aaron Jason Espinoza Senior Community Manager, Insomniac Games
Gillen McAllister (he/him) Senior Specialist, Content Communications, SIE
Grace Chen Vice President, Network Advertising, Loyalty & Licensed Merchandise
Anthony DiMento Lead Player Investment Designer, Santa Monica Studio
Duncan Heaney Content Communications Manager, Square Enix
Alex Spencer Need for Speed Writer, Electronic Arts
Duncan Heaney Content Communications Manager, Square Enix
Website © 2022 Sony Interactive Entertainment Europe. All content, game titles, trade names and/or trade dress, trademarks, artwork and associated imagery are trademarks and/or copyright material of their respective owners. All rights reserved. More info