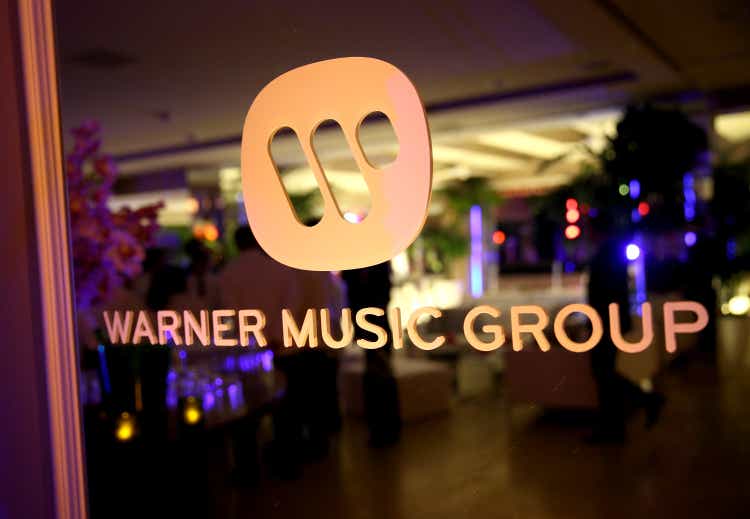 Imeh Akpanudosen/Getty Images Entertainment
Warner Music Group (NASDAQ:WMG) shares fell more than 2% in premarket trading on Friday as investment firm Guggenheim downgraded the music company, citing worries over weaker streaming revenues.
Analyst Michael Morris lowered his rating on Warner Music Group (WMG) to neutral from buy and trimmed his per-share price target to $35 from $38, noting there is a "continued deceleration" in ad-support streaming. Morris added that WMG (WMG) is also facing the impact of a "lighter quarterly release slate" as well as worries that its competitors, including Universal Music Group may take mind share with stronger content cycles.
"Importantly, we also take a modestly more conservative view of a sustained growth trajectory in streaming revenue and recorded music margin expansion," Morris wrote in a note to clients.
As such, he now expects ad-supported streaming revenue to fall 12% year-over-year, compared to a prior estimate of a 5% decline, while subscription revenues are expected to rise 9% year-over-year, down from a prior outlook of 13% growth.
Morris also lowered estimates for first-quarter physical revenue to $130M, down from $175M and Artist Services and expanded rights to $200M, down from $219M.
"We remain confident in the company's ability to continue to source, develop, and monetize unique intellectual property," Morris added.
"However, we also see greater than previously forecast volatility on quarterly trends and a more conservative multi-year Recorded Music streaming revenue growth to low double digits from our prior low teens as incrementally pressuring our valuation," he continued.
Last month, Bank of America said Warner Music Group (WMG) was one of the top 10 most overweight stocks in U.S. long-only funds.
Analysts are largely bullish on Warner Music Group (WMG). It has a BUY rating from Seeking Alpha authors, while Wall Street analysts rate it a BUY. Conversely, Seeking Alpha's quant system, which consistently beats the market, rates WMG a HOLD.